Sharing is caring!
Whether you're reading on the beach, poolside, or in the air conditioning, we've put together a list of summer mysteries for 2022 to keep you company. From the best thriller beach reads and contemporary summer mystery books to historical fiction beach mysteries, we have book recommendations to keep you on the edge of your seat.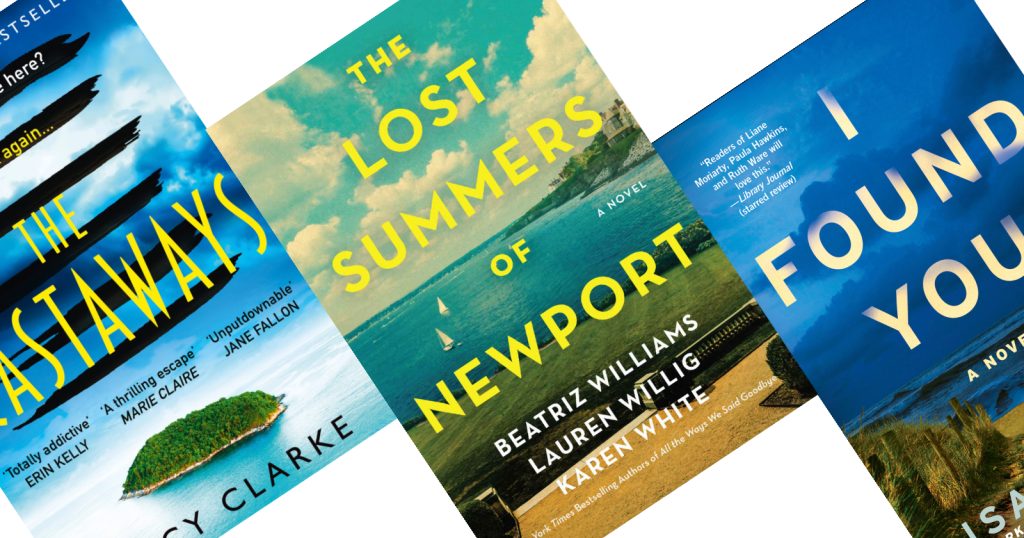 Some of the books are set on tropical islands or coastal waterways, while others feature summer holidays and vacations. These beach murder mystery books and summer thrillers all contain a level of suspense and various levels of intensity. If you're looking for a lighter whodunnit style mystery, check out our Summer Cozy Mysteries list.

Sometimes it's hard to find the line between a thriller and a mystery. No matter your preference, you'll find the whole spectrum on our list. A couple of the books are scary psychological thrillers. Others are more like contemporary fiction with a mystery to solve along the way.
After the contemporary books, we added a section of historical fiction summer mysteries for all our historical fiction lovers!

Because these are mystery novels, we'll try not to give too much away in the descriptions. We've written just enough to help you know which plots are most intriguing to you!
As an Amazon Associate and member of other affiliate programs, we may earn a referral fee from qualifying purchases.
Summer Mystery Books 2022
Contemporary Psychological Thrillers & Mystery Books for Summer
by Lucy Clarke
This page-turning thriller is also a heartfelt story about siblings that will quickly draw you out of your own life and into the lives of the well-written characters.
The main characters in Castaways are two sisters, Lori and Erin, who are traveling together to an island resort in Fiji after Lori separates from her husband. The night before their flight to the resort, the sisters get into an argument, and Erin doesn't show up when it's time to board.
Lori gets on the plane anyways, but something feels off beyond her MIA sister. Her gut was right…the plane disappears before reaching its destination. When Erin hears this, she uses her experience as a journalist and tries to figure out what happened to Lori and the other passengers.
by Shalini Boland
Beth and her family get the opportunity to swap their wintery UK cottage for Amber's sunny Italian villa for a two-week holiday. While Beth's home is cozy, Amber's is fancy and everything a dream vacation is made of, complete with an infinity pool. Or rather it looked like a dream before it became a nightmare.
The book is told from alternating perspectives between Beth and Amber. We will say that this qualifies as a beach murder mystery, but outside of knowing that, we recommend not reading even the publisher's synopsis because reviewers say it gives away something that doesn't happen until pretty far into the book.
The Book Girls Say…If you loved the movie The Holiday, where Cameron Diaz and Kate Winslet trade houses, this book might appeal to you. Although keep in mind it's a summer thriller instead of a heart-warming holiday tale!
This book is included with Kindle Unlimited as of 6/21/22.
by L.J. Ross
Gabrielle has what many would consider a dream life. From her ideal job in publishing to her handsome fiance, her life is the perfect mix of brains and beauty. Everything changes after encountering the "Underground Killer," who takes his victims from London Tube platforms.
Although she's a survivor, she struggles to return to her everyday life. She hopes that getting out of the city to run a tiny bookshop in Cornwall will make her nightmares stop. It seems perfect, but has she just entered a different kind of nightmare?
The Book Girls Say…This highly-rated book crosses genres from mystery thriller to romantic suspense, and even adds in a bit of humor. It's the first in a series, with the 2nd book set for publication later in 2022.
This book is included with Kindle Unlimited as of 6/21/22.
by Mary Kay Andrews
Mary Kay Andrews has been called the Queen of Beach Reads, and this is no expectation. Letty's sister Tanya made her promise that if anything happened to her, Letty would take Tanya's daughter Maya and run.
When Letty finds Tanya dead, she knows the murderer is Tanya's ex, Evan, so she follows Tanya's instructions to get out of town. Tanya left behind a go-bag of cash, and massive diamond ring, and a faded magazine article about a small mom-and-pop hotel in a Florida beach town.
She heads south to Florida with four-year-old Maya, trying to comfort the child and unravel her sister's secrets while keeping a low profile among the locals, including the handsome police chief Joe. Sisterhood, romance, and mystery intertwine throughout almost 500 pages, which is great if you're looking for a longer option.
The Book Girls Say… Mary Kay Andrew's new release in 2022, The Homewreckers, is on our summer cozy mysteries list!
by Victoria Jenkins
With her wedding approaching, Holly invites her bridesmaids on a weekend getaway for some girls' trip fun. They head to a remote cabin, the perfect setup for a locked-room mystery. By the end of the first chapter, you'll learn that one of the friends is dead, and the rest are all suspects.
The book is told from the alternating perspectives of Holly and two of her bridesmaids, Suzanne and Claire. All three have long-hidden secrets that will test their friendships as they try to identify the killer.
This book is included with Kindle Unlimited as of 6/21/22.
by Lisa Jewell
Take an armchair vacation to two different UK locations to uncover twenty years of secrets in this thriller from best-selling author Lisa Jewell. In East Yorkshire, you'll meet single-mom Alice who finds a mysterious man on the beach outside her home. She invites him inside despite his confusion about how he even got there.
Approximately 200 miles south in London (Surrey), Lily's husband fails to come home from work one night. She's only twenty-one, has only been married three weeks, and is new to London after moving there from Ukraine. When she calls the police to report her husband missing, the police don't take her seriously.
by Emily Barr
Esther is nearing her 40th birthday and is looking to take a break from her divorce and motherhood in Britain, so she books a solo trip to a beach resort on the Malaysian island of Pulau Perhentian Kecil.
She and a group of fellow tourists - each with their own secrets - plan a day trip to a deserted island for some snorkeling. But, when the local fisherman who transported them out to the island doesn't return to pick them up as promised, their relaxing beach day takes a sinister turn. Esther soon realizes someone doesn't want her to return from her travels.
The story also includes flashbacks of a teenager trying to escape in another time and place. This storyline won't seem to fit with the book until it does, so be patient and stick with it!
The Book Girls Say…This book is also included on our list of Books Set on Islands, which features island settings around the world in a wide variety of genres.
This book is included with Kindle Unlimited as of 6/21/22.
by T.M. Logan
Kate, her three long-time friends, and their families are headed to France together to celebrate their 40th birthdays at a luxury villa. While in France, Kate sees suspicious messages on her husband's phone. Is he having an affair with one of her best friends? It sure seems like it, but which friend is the mysterious "Coral Girl"?
As she investigates and unburies long-held secrets, the stakes become higher. Someone may be prepared to kill to keep their secret safe.
The Book Girls Say…This option is more of a slow-burn mystery than some of the other page-turners on the list. It's full of unlikeable but well-developed characters. As you read, you'll feel like you've been transported to France, so this is an excellent choice if you're dreaming of a summer European vacation.
by Steph Broadribb
This book works as a stand-alone but is also the beginning of a new mystery series. After a long career, police detective Moira is ready to retire in paradise. She moves to a luxury retirement community, The Homestead, where things aren't as peaceful as she hoped.
Moira finds a dead young woman, surrounded by cash, floating in one of the community pools. Detective skills and instincts don't shut down at retirement, so Moira finds herself investigating. Three of her new neighbors, also former officers, join her cause and are soon frustrating both the murderer and the local police.
by Jennifer Weiner
After six years of not speaking to her best friend, plus-size influencer Daphne is shocked when she's suddenly asked to attend her big society wedding. On top of that, her former friend begs her to be maid-of-honor.
The prospect only tempts Daphne because the offer comes with a weekend in a Cape Cod mansion and might help her business. The friends have changed over the years, but will the wedding finally help them reunite as best friends?
We don't want to tell you what happens after she arrives at the mansion because that would be a spoiler, but trust us that this book has a strong mystery component.
by Matt Goldman
Set on the coast in Beaufort, South Carolina, Carolina Moonset is as moving as it is mysterious. Joey takes a trip to his hometown to help his father so his mom can take a break. His dad's dementia is advancing, and his short-term memory is almost nonexistent. However, his longest-term memories are flooding back, and he's often reliving his time as a young boy in Beaufort.
While this is nice at first, his dad soon begins having hallucinatory arguments with people from his past. Long-buried secrets and scandals begin to re-emerge, causing Joey to question everything. The past was problematic enough, but now the police have arrived to discuss a new murder.
Historical Fiction Summer Mysteries
by Mary Ellen Taylor
This duel-timeline novel is set in Nags Head, North Carolina. In the present day, Ivy has inherited a beachfront cottage from her grandmother. However, returning home to Nags Head means facing those who betrayed her. To avoid that, she hopes to clean up the cottage's clutter, sell it, and return to New York. However, something happens that leads her to believe the house is full of secrets.
In the 1950 timeline, you'll follow 12-year-old Ruth (Ivy's grandmother). She works at her parent's small resort, and between cleaning rooms, she's always up for an adventure with her cousin Tally. This summer is full of surprises, like a shipwreck uncovered during a storm and the arrival of a new entertainer for the resort, the beautiful Carlotta.
The two timelines are woven together as you slowly learn how the events of the 1950 summer still affect Ivy today.
by Claudia Gray
If you enjoy Jane Austen, look no further for your next mystery! All the characters in this summer house party mystery are Jane Austen characters.
When Mr. Knightley and Emma throw a house party, Mr. Wickham is not invited. His schemes have made him more enemies than friends. Everyone is shocked when he not only turns up at the party, but is murdered.
In this locked room mystery, everyone at the party is a suspect. The two youngest guests, Juliet Tilney and Jonathan Darcy, must team up to find the guilty party before an innocent person is sentenced to death.
by Beatriz Williams, Lauren Willig, & Karen White
Spanning the Gilded Age to the present day in three different timelines, this novel is set among the summer mansions of Newport, Rhode Island.
In the present day, you'll meet Andie, the producer of a reality show called Mansion Makeover. She's in Newport to renovate the once fabulous, but now slowly crumbling Sprague Hall. However, she has more than construction problems. The mansion comes with a reclusive heiress who still lives in the house, but insists that no one speaks to her and that no one touches the boathouse.
In 1958, you'll meet Lucia, aka Lucky, Sprague, who fled Mussolini's Italy with her grandmother. They return to her Nana's Newport house, which she hasn't seen in 1899. One night in the boathouse, she uncovers a shocking truth that changes everything she thought she knew.
In 1899, mining heiress Maybelle Sprague is taking singing lessons from Ellen, who has been hired to help polish Maybelle for her entrance into society. Maybelle's stepbrother has just purchased a home among Newport's elite and hopes to marry Maybelle off to an Italian price. However, Ellen has a checkered past that the family doesn't know about.
We hope you found lots of books perfect for your summer reading list!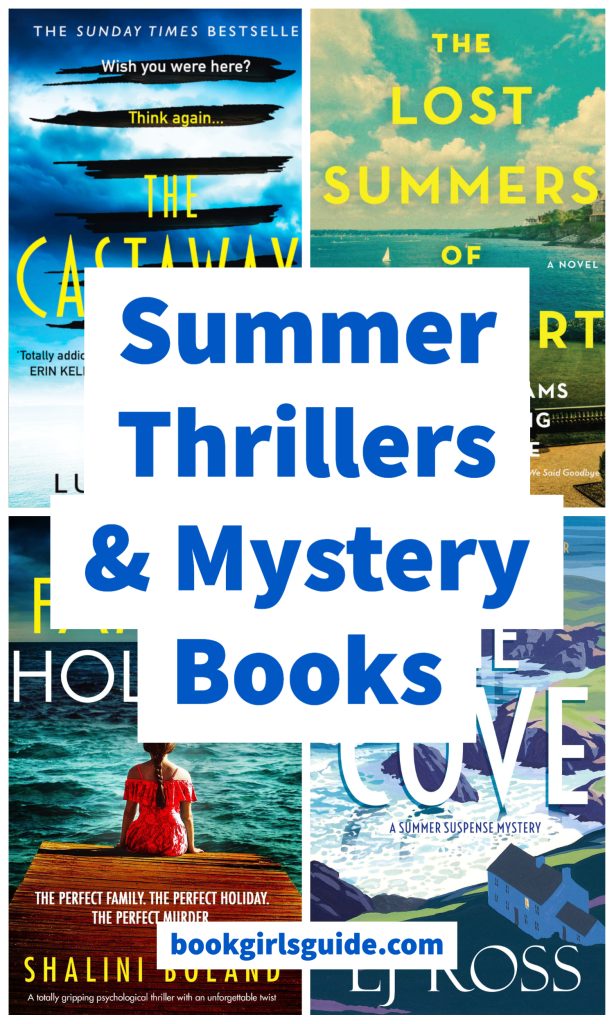 Here are some other mystery book lists you may enjoy…